Virus Removal Guide for your Laptop Computer?
About 2 weeks ago, we wrote a blog post on "Laptop Memory: To Upgrade or Not to Upgrade?", today it's about "Virus Removal Guide for your Laptop Computer?"
Most of the time, when we are not careful with our body, we get infected by viruses which mess up with our immune system and impede us from functioning well. These viruses can lead to several complications, from simple colds to a life-threatening condition. And, not surprisingly, our computers are also bothered by viruses, not of course the kinds that humans catch, but the effects are quite the same. The computer viruses vary from something fairly harmless to possibly serious, which could cause your computer to just slow down or eventually crash, just like their biological counter-parts.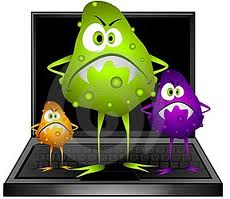 When talking about viruses that attack your computer, one is pertaining to undesirable malicious software or malware as computer people call it. There are several types of malwares which are commonly talked about in the Internet, like viruses, spyware, keyloggers and many others.
Viruses are rampant, and every day, there are new ones to be encountered. However, if you are diligent enough to regularly update the anti-virus software and operating system that you are running, you don't have much to stress yourself out. Most viruses take advantage of bugs and dodges in software like your web browser and operating system. Regularly updating your software, especially the security program you are currently running, sees to it that you have the most recent patches making you less vulnerable to virus attacks.
Be careful also when surfing the internet, because some downloads and links can actually trick you into running a virus program or visiting an unsafe website. Also, some viruses make their way into some computers through E-mails from an infected computer.
Yes, you have lots of ways to prevent viruses from attacking your computer, but what if the virus has already infected your computer. It is important to get rid of the virus immediately to lessen the impairment that it may bring to your computer. Typically though, a good number of viruses will only flood you with advertisements and not that dangerous. You just have to get anti-virus software to scan and fix your computer. However, there can still be traces of the virus left in your system, so to make sure that you are really cleared is to scan your computer with an anti-virus scanner.
It is essential for every computer to have good and updated security software installed, especially if you frequently browse the internet. It has always been the best to hinder viruses from entering your computer than fretting as to how they are to be removed. When you are confused as to what internet security software you will be using, a trusted name should be a top preference. You should also weigh your choices as to their features; since the more features they offer, the more likely that you will also receive more protection. You should also take into consideration the overhead, or the computing power required in running the security software, since more overhead can take away more computing power from what you are actually trying to do, like surfing the web or watching a video clip. However, if you have your hands on a somewhat new computer, you may not have much to worry about.
Some viruses are harmless and can be easily removed. But then, it is better to have well-functioning defenses since, there are still those viruses that can actually damage your computer big time, and a simple scan and fix may not cure it.
If your laptop is in serious virus attack, it's better to get experts to help you, contact us now.

Fatal error: Uncaught Exception: 12: REST API is deprecated for versions v2.1 and higher (12) thrown in /home2/laptopre/public_html/wp-content/plugins/seo-facebook-comments/facebook/base_facebook.php on line 1273