Keeping Your Laptop Cool
In our previous post, we shared about how to clean your laptop fan, today we will share with you on how to "Keep your Laptop Cool".
It is very ironic that you cannot use your laptop on top of your lap because it gets too heated up.  Using your laptop on your lap for a long period of time may cause severe damages on your skin such called the "toasted skin syndrome". But even if you don't put it on your lap, letting a laptop overheat may cause serious damages maybe not on your skin but on your device's overall performance and eventually on your wallet.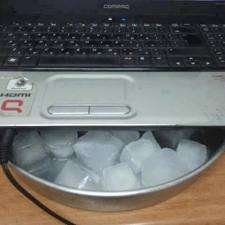 Therefore, it is important to keep your laptop cool every time you use it to prevent any system failure. Here are the things that I suggest you to do to control the operating temperature of your device.
1) Adjust the laptop's power settings from 'high performance' to 'power saver' plan. By doing this, your laptop will only consume minimal amount of power that you need to run your applications.  Your device will less likely to heat up since it is not using its maximum processor speed. But you should return to high performance mode if your applications require more speed from your system.
2) Keep your fan vent dust free. Dust particles may prevent your cooling system to function properly or worse it would cause it to stop functioning at all. Malfunctioning cooling system is equal to increase of heat of your laptop. But you need not to worry. A simple dust brush is an effective remedy to keep dusts away from your fan vent. Just make sure that you use it regularly.
3) Do not let your laptop running when not in use. By doing this, you will not only reduce the risk of your laptop overheating but it is also a good energy saver as well. You should apply ways and means to maximize the use of your laptop. Like for example, buffering videos while working on something else on your laptop will not only let you save time and energy, but it is also an effective mean to minimize the amount of heat that your laptop will generate.
4) Use a cooling pad for your laptop. This is an external solution to keep your device cool. The built-in cooling system of your laptop may not endure longer hours of usage even if you follow the tips that I have given you. It is best to utilize a cooling pad if you plan to maximize the use of your laptop. Just keep in mind that you should choose the right cooling pad that will best suite your working habit.
If your laptop fan is not working properly, contact us for no-obligation consultation.

Fatal error: Uncaught Exception: 12: REST API is deprecated for versions v2.1 and higher (12) thrown in /home2/laptopre/public_html/wp-content/plugins/seo-facebook-comments/facebook/base_facebook.php on line 1273