Choosing the Right Cooling Pad for Your Laptop
We talked about "Virus Removal Guide for your Laptop Computer?" previously, now let's talk about "Choosing the Right Cooling Pad for Your Laptop".
Do you know that overheating can damage your laptop's performance and may unfortunately lead to system failure? Heating problems is one of the common issues that most laptop users have with their tools because its built-in cooling system cannot stand the heat generated from long hours of usage. It is even sad to say that you cannot even use your laptop anymore on your lap because of the heat it generates. So, what can you do to prevent your laptop from overheating?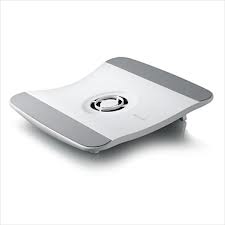 It is simple. Buy a laptop cooling pad. A cooling pad is an accessory that cools or lowers down the operating temperature f your laptop. But there are things that you have to consider before buying a cooling pad. Of course, you don't want to waste money on something that doesn't properly correspond to your laptop's design and build. Below is a list of tips that you may want to consider before buying that essential tool for your laptop.
1) If you mostly travel with your laptop, it is important to buy a cooling pad that is portable, light and of course something that can last long even if you carry it with you while traveling.  A laptop cooler that is made of plastic may be the best choice for travelers because of its light weight. But of course since it is made of plastic, it is will not last long than metal cooling pads do. So, you may want to consider which feature is important to you. Is it portability or durability? Another option for travelers is a chill mat that has crystalline gel.  It is also easy to carry and less inclined to damage.
2) Buy a cooling pad that fits the size of your laptop. It is not only the weight of the cooling pad that you should think about. You should also make sure that the size is not too big or too small. It should be a perfect fit!
3) If you use your laptop in be, sofa or on your lap, find a cooling pad that you will feel comfortable to use with your laptop.
4) Find a cooling pad that suits your budget. Plastic cooling pads are cheaper than metal cooling pad versions. Therefore, if your budget is low, a plastic cooling pad is the right one for you. But if you would prefer durability over affordability then choose the metal versions.
5) It is also important to choose a cooling pad that allows more airflow. A pad that is slightly curved and makes the back of the laptop to be slightly exposed provides more airflow and circulation.
6) Finally, choose the right cooling pad with the fan of your choice. You could choose a cooling pad with one large fan or one which has two or three smaller fans. But of course a larger fan does not necessarily mean better cooling system than a couple of smaller fans or fewer fans are less noisy than one larger fan. Therefore, it is important to check the reviews of the cooling pad that you would wish to buy.
You can always purchase a cooling pad range from $20 to $40 in Singapore, which is affordable and worth the money to protect you investment.

Fatal error: Uncaught Exception: 12: REST API is deprecated for versions v2.1 and higher (12) thrown in /home2/laptopre/public_html/wp-content/plugins/seo-facebook-comments/facebook/base_facebook.php on line 1273